Children's Christmas Spree
During December each year, children with need are selected from the Carlinville School District to be taken on a shopping spree in Carlinville stores to purchase clothing, school supplies, winter coats, shoes and other items. Pairs of volunteers from Carlinville accompany a child and assist with the purchases.

---

Lunch Bunch
Annually, during a portion of the summer, the Lunch Bunch team organizes a lunch meal to be provided to all members of the Carlinville community, but with a primary focus on feeding families with children who might otherwise go without. Church members provide the leadership to recruit teams of volunteers from other Carlinville churches to work as servers. The Carlinville Area Hospital provides the hot meal, and the Macoupin County Department of Public Health provides transportation for those who need it. The meal is served at the recreation center at the Carlinville Housing complex.
---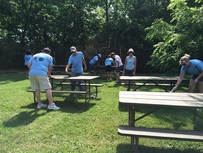 Take It to Town
On the first Saturday of June, members of the church organize a volunteer service work day involving volunteers from the Carlinville area in work projects at various locations in the Carlinville community. Workers have been placed at nursing homes, schools, area parks, the city and historical society buildings and grounds to do cleanup, painting, minor construction, and other tasks that the site agencies are not always able to get to during the year. The workers are all treated to a meal following the time of labor.
---
---
Saturday Snacks
During the school year, members of the church organize volunteers to assemble packets of snacks, which are delivered to the primary school in the Carlinville School District and distributed to students who are in need. Packs include Cheerios, pudding, juice boxes, granola bars, fruit cups, cheese crackers and other items. Items are either donated or purchased with donations from area churches.
---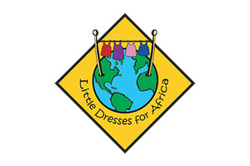 Little Dresses for Africa
Church members, along with several people from the community, gather on the 2nd Monday of the month (10:00a - 2:00p), bringing their sewing machines and other sewing equipment and supplies to create dresses for children in Africa.
Little Dresses for Africa
- We're not just sending dresses, we're sending hope.
"Our mission is to provide relief to vulnerable children throughout the Continent of Africa and beyond. Volunteers from all over the world join together to make little dresses out of pillow cases or other simple patterns."
---
---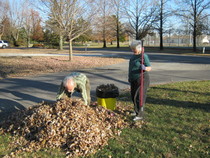 Leaf Raking
The church's adult Sunday school class spends a day during the fall raking the leaves for church members who are elderly, disabled or shut in. The leaves are raked, bagged and removed from the property.
---